Yes, I am aware about what's happening here on Tumblr. But to be honest, to whoever you are, I won't beg for you to stop neither ask over why you're doing this to me or to us. I know you have a reason and I respect whatever it is.

I've been blogging for four years already and this is the first time that something like this happened to me. All through those four years, I never talked shits to other bloggers, I never stepped down on anyone, and I never sent any hate message and never humiliated anyone. I might have hated some but I never did anything to hurt them, but I do unfollow them.

You sent messages to some of my/our friends and told them that we are fame whores – because of what? Notes? Because you said we like everyone's post? And we do that to get notes in return? I never asked anyone to like my posts. I never pleaded for notes. And to support this, you can message all the bloggers who liked my entries and ask them. Those are just notes and I can't believe you're being like this because of those.

You're saving everyone? Really? From whom? From us or from you? Because I think it's not us who hurt someone to get self pleasure. It's not us who talk shits to other people. It's not us who message bloggers to say awful things about others.

If you think this is fun, then dude, I'm out of it. This is so childish and shallow. Grow up and get a life. You won't get anything from me. Really.

And by the way, you're making me famous, just so you know.
Just because this is EXACTLY what I feel. 
Sunday - March 9, 2014 - 09:58pm ♥ 33 notes •
Permalink
March 6, 2014/Thursday  Money Delivery…
Since I lost my job, Gary and I only see each other just once a week. Lucky enough if it gets twice in a row. I kinda used to it already cause I do understand the situation. That day I accompany him the whole day in his work. We do the things we often do. (1) Stay at the shop until his shift ended. (2) Eat our meryenda at Mcdonalds and (3) Go home.
But this day is different. Before we went to Mcdo his boss phoned him and asked to drag the shop's 5 days income to their house. Gary doesn't bring any bag with him that day so he puts all the money inside my bag and suddenly I feel like my life is in danger in any minute of that day. Though it isn't that big amount but still. It's enough to make my bag look bloated.
@Mcdo, Gary ordered 2 pcs of chicken with rice. He's so hungry that he didn't even let me took a picture of it. I ordered cheeseburger meal and their coke float with strawberry syrup on top. Though I'm not really sure it was strawberry it's more like a bubblegum flavor. It taste good to me but not with Gary. He hates it with matching a grimace on his face. I really can't contain all the giggles I have inside. So I'm pretty sure he totally hates it. HAHAHA.
As always our normal day end up as one of our special days. So this is really a bloggable entry :D Here's our selfie that day. Hashtag I'm so pretty JKPT :D
Saturday - March 8, 2014 - 09:53pm ♥ 35 notes •
Permalink
tangledinletters
: Hello!!! Surprise!!! Once you get this you must share five random facts about yourself then pass this on to 10 of your favorite followers :)
Thank you Czarina for sending me this. And thanks also to blissfulifeof-bei, littlemissnika, keithdc, && bipolarkath for sending me the same message :)
5 Random Facts about me:
I have an abnormal left ear. 

I don't participate in washing the dishes at home. I hate plates.

I love sour fruits especially Manggang kalabaw.

I'm an avid fan of Miley Cyrus.

I used to easily trust people before but now I learned a thing. I'm now

 teaching myself to be more careful who to trust these days.
Goodnight!
Wednesday - March 5, 2014 - 11:07pm ♥ 15 notes •
Permalink
Compiled Anonymous Questions.
This is the first time in my blogging life that I received series of anon messages packed in three days. So let me just answer this in one post Here goes..
Anonymous asked: I saw you on audition kaya lang nahiya ako iwhisper ka bwaaahaha..
☛ OMG! Please let me know who you are I want to play with you. NOW! :)) You can always find me at Air flare channel 2 anyway :))
Anonymous asked: 

hi. nabasa ko yung anon message. may nag message din saakin dati na ganun eh. pero hindi ko pinansin. pero i admit nasaktan ako dun kasi nga sinabihan akong wrong grammar. pero okay lang yan, like what you've said we're still learning. nobodies perfect. and regarding dun sa licensed teacher ka na, eh ano naman? it's the way how you teach that matters. may mga doctor nga ng education na still they learning pa rin. anyway, God bless

☛
Yes you're right! It kinda hurt me too though.. Thank you for this message :) Every word you've said makes me smile. God bless you too!
Anonymous asked: Are you sure Xian is just your nep?
☛ I'm pretty sure darling. Why would I lie about it? In fact I couldn't recall any events I'd gave birth, if that's the case.
Anonymous asked: How old is Gary now?
☛ He's 26 and he's going to kill me by telling you his age! HAHAHAHA
Anonymous asked: Do you always do that? Fetching your boyfriend in their house? Is it nice and more formal if HE go to YOUR house and fetch YOU there?
☛ Hi! I hate to say this but the relationship isn't legal YET on my side. So I have to sacrifice until we finally come up to that day that I'll be finally introduce him to my parents. We're still working on his first ever visit so yeah. Hopefully by this year. Don't worry I'll let you all know when :)
Anonymous asked: I read it too. (This is not a criticism or to put you down) i'm just concern that people might laugh at your grammar to the extent that you're already a licensed educator. Check your grammar madame :) God bless.
☛ Awww. Thank you for the CONCERN :) ! Well let me just clarify one thing the"might-laugh-at-your-grammar-to-the-extent-that-you're-already-a-licensed-educator". Once and for all—I don't really effing care if they're now laughing at me. It's a free country anyway.. I may be now a Licensed Educator but I don't have to be perfect with the grammar thing-y. I must admit that I'm still learning. Running this blog is just my own little way of practicing to be as good as the others like you perhaps. Having a perfect grammar is not necessary for me (in the mean time). As a SPED Teacher I just need to be as loving as a parent, caring, and dedicated with my profession. As far as I know in SPED we're teaching the SpEd student to live INDEPENDENTLY so that they're not kawawa in the future HAHAHAHA.. Thanks again. Next time I'll be more careful :)
Anonymous asked: your grammar is kinda off.
☛ Yes anon I know! And for the 13243x I DON'T CARE! But thank you at least I know someone is reading my blog. HAHAHA :D
That's all. Hope you all have a great weekend! 
Sunday - March 2, 2014 - 10:27pm ♥ 14 notes •
Permalink
March 1, 2014 Pyromusical at Seaside Boulevard SM Mall Of Asia
Most of you guys already knew about me fascinated by fireworks. It just happened that my brother ask the gang who wants the tickets for the pyromusical at MOA. Originally it was supposed to be for him and his future wife but they're both can't make it. It's just very fortunate of me that no one wants the ticket rather than me so JACKPOT. I send a message to inform Gary about the pyromusical and he phoned me for some clarifications. I asked him to just ask permission to his partner that he couldn't make it to work but instead he just ditched work. Magaling! Hahaha..
Japan and France are the countries that had performed their fabulous fireworks. I must say that Japan's ending is so fantastic but I also have to commend France's continuous firing that didn't got me bored until the end. The show was extravagant. It was something I've seen in the past but I will surely watch again and again again if given an opportunity in the future. I took videos of it but it's too long and I don't have the patience to upload it. Hehe So yeah I've just decided not to post the vid.
We also patronized the photo booths just around the area. It was one of Gary's humiliating experiences in his life. Haha.. Might post the picture next week. The show last until 10pm.. We stayed a little longer at the Seaside, talk randomly about our past week ot being not together and after a while decided to go home.
It is indeed one of our expensive trip. Our Overload foods at Mcdo plus MOA is a 2 hour and a half drive away from Marikina. It is the main reason why we spend so too much money on our transportation. But one good thing about him is he never complains. So lucky enough to have him in my life.
Sunday - March 2, 2014 - 08:23pm ♥ 43 notes •
Permalink
Hi anon! I believe this is for you. :)
THIS!
Friday - February 28, 2014 - 10:49pm ♥ 24 notes •
Permalink
February 25, 2014 †Tuesday Our 37th Monthsary-Date with Xian†
We still have a mountain of issues to overcome, but I know for each other, we will—and we'll have a life time to do it. — Anastasia Steel (Fifty Shades of Darker)
The original plan was it's just ME && HIM on a date. But as I was preparing myself to go, my sister which is my nephew's mother ask me again to take her son with me (she's really tamad). To make the story short my nephew and I head to Gary's house to meet him.
He's having his bath when we arrived. I guess it was a relief then. I think it surprises him to see Xian with me but I see a grin in his face.
We head to Sta Lucia East Grand Mall to have our lunch. We first went to Jollibee to buy french fries for my nephew then we head to Chic-boy. I ordered Cebu Lechon Liempo and Gary ordered Lechon Sisig. Ugh cholesterol. It was a heavy lunch indeed.
We only had just until 4pm to roamed around the mall cause Gary is in night shift again this week. So we really did seize the day together with my oh so mischievous nephew. All our attention was only on to him but not setting aside the true reason we're having a date.
At the end of the day I know he's glad and pleased. Its very nice to have a different way to celebrate monthsaries. I hope we could have more ways in the future.
Friday - February 28, 2014 - 08:09pm ♥ 44 notes •
Permalink
February 22, 2014 ☆ Day 1 in Cavinti ☆
I have said in my previous blog entry that we're heading to Laguna. Since I haven't sleep that day, I slept through out the drive and woke up to my surprise that we're in Quezon instead. Well I'm just not informed. My dad and my sister didn't let me know that they'll be going first to a faith healer for some "faith-treatment". I've just waited in the car and had slept some more.
When I woke up again we drove heading to Laguna now but we had stopped to a mini store in Tayabas where they sell their very famous and delicious Yema Cake. We bought one big box of it only cost 240 pesos. I didn't thought it tastes so freakin' GOOD. I wish I have a picture of it but I forgot to took one so I'll just show you guise what I have searched over google.
I really hope, I, myself could go back to Quezon and buy a couple of this and spare them with Gary and with you guys if ever. Haha..
Then we finally reached Laguna. The reason for our visit in our province is to attend the celebration of my cousin's and aunt's birthday packed in one. At first I thought the rest of my day would be boring. But gladly my cousins are easy to deal with. They didn't give me hard time. I'm glad it isn't that hard to cope with them after almost 3 years of not seeing them. We drunk all night and I claimed the videoke all the way for the rest of the night. HAHAHA.. 
February 23, 2014  ☆ Day 2 in Cavinti ☆
Since we slept early, we also woke up early. Though I still want to leave my body in the bed. It's effing cold. I didn't even remove my jacket away from me. I was just ashamed not to leave the bed because everyone has been all working in their morning stuff already. We eat breakfast and then we've prepared ourselves to go somewhere.
We went to our hectares of land in Cavinti which field with different crops. My uncle is the one who facilitates the land while my dad and us (his family) is in the city.
It's actually my first time to visit and to see the land for myself. I wish I have my camera with me that time so I can show you guys how the place looks like. We have there a huge Nipa Hut place at the center of the land where chickens, ducks, cats and dogs are living. No electricity. Just purely crops. There also a bunch of banana tree everywhere. A bunch of coconut tree and a lot more different kinds of crops. We harvest some and took everything home.
One thing I've had realized. "It's hard to live in the Province".
Thursday - February 27, 2014 - 06:43pm ♥ 40 notes •
Permalink
10 Things that make me happy tag ~
Hey lovelies! I just want to update my blog. Hihihi.. So before anything else I would like to thank Roze ♥ for tagging me with this one. The following are the literal things that make me happy, except for the last 3 parts.. So let's start?
1. Audition Dance Battle. The crazy feeling I get whenever I got to play this online game. I've been playing audi since 3rd year high school and I've never imagined that it will lead to addiction up to this present time. 
2. Tumblr. No doubt about this of course. On July 20 my blog will turn 4 years old already. For almost 4 years of running this blog alot of things has changed that make me forget the people I know in real life. Some what an escape as everybody says and it is.
3. Tablet. Well I semi own a tablet. Semi because I can't take it outside home. Hahaha That's the sad part to that. There is where I read Ebooks (awesome novels everyone should read) from midnight till dawn. Urgghhhh yeah eye bags >.<
4. Desk top. It's more convenient for me to use desk top rather than my cp when browsing. Here I could open multiple tabs at the same time without reloading too much.
5. My own business. Yes! (Let's give 5 claps to that) I now have my own business but it will run just until the end of March or at the end of the school year. It's an Ice candy business haha. I've been producing 150 pieces of ice candy a day and my mom will brought it at school and the canteen of their school is the one who's going to sell it to their students. Everyday I earn 50 pesos up. It's not bad though atleast little by little I was able to save. Saving money is a MUST. Summer is just a months away so I really have to save NOW.
6. Foods. Everyone does love food. Agree? Well you have to. It makes everyone happy though it is a necessity in life. Been crave satisfied with ice cream and Indian mangoes lately. Good combination isn't it? HAHAHA ..
7. Singing. One of MY HiDDEN TALENT. When I'm bored I will just browse through YouTube and will search for the songs with lyrics and will sing it LOUD. As in with a full blast. HAHAHA :D
8. My nephew. Lately we've been spending too much time together rather than his own mother. He got bonded with me everytime of a day. His smile is more than enough to make me feel happy. He prefers me more than his mom. Been thinkin' maybe I was his real mom. loljk…
9. Gary's random jokes. I don't have to explain further details about this one. It's obviously clear enough.. I LOVE YOU BEYBi :*
10. My Love Life. When I'm with him there's always a guarantee that we're not going to have dull moments. It will always be the best part of my life. Random conversation is something a couple could be proud of. It means that they both enjoying the company of each other. Maybe we have flaws but it will always be something that can't affect the love we're sharing.
Hope you guise didn't got bored reading. Sorry if it turned out to be like the happy list. HAHAHA And I'm tagging everyone. Enjoy!
PS: I'll be in Cavinti Laguna tom Hehehe .. Please Wish me/us a safe trip.
Friday - February 21, 2014 - 10:02pm ♥ 42 notes •
Permalink
▴February 13, 2014 ▴ Thursday ▴ Tito-Tita-Bonding▴▴▴
Well it is a little bit late blog post already. I just don't want this to dump on my drafts so here it is. So yeah!
It is Gary and I Pre-Valentines celebration. It was not planned. It just happened that he forgot the shop's key at their house. It has to be given to him for him to be able to close the shop after his shift. He phoned me at home to ask me to get it. I was thinking of saying NO cause it's also the time I've got rid of my sore eyes. Just too afraid it'll come back. But after few seconds of convincing me, I feel the urge to help him. Afraid that he has no other option. Juuussst ME. lol
My nephew went with me. I find it partly convenient that he's with me. Meaning I don't have the need to explain further to whoever is in their house what I'm doing there even he's not at home. I hate explaining things ya know!. I've just asked for the keys, say Thank you, then leave. Too much of shyness lead me sucking at things. HAHA..
Xian (my nephew) and Gary are more close now than our previous meet ups. He's been more attached now to his uncle-to-be Haha. They've both neglected my presence that time so I've just feel the need of taking some pictures of them together while addicted to what they're doing..
As part of the day, I went to Mcdonalds and take out foods for the three of us to share. It's been quite a long time since we last spend the day together. I also agree that everyday is a must Valentine's day with someone you love.
Tuesday - February 18, 2014 - 08:22pm ♥ 34 notes •
Permalink
HAPPY VALENTINES!
Life lately has something to do with the photos above. Well you guys might notice that I've been neglecting my blog for three days already. It's all because of two things. (1) I've just got addicted AGAIN to Audition. (2) I've been hooked to Divergent series. And BTW I survived sore eyes. Haha
My days went like— If if not playing, I'm reading.. If I'm not reading, I'm playing. lol. Super bum.. But I'm really enjoying every thing I'm doing.
Today Gary and I didn't set a date cause he has to work. Good thing we met yesterday. I understand him cause it's also for my own good. So I'm not gonna post something related to valentines day today. HAHAHA.. Maybe I'll just do it on the coming days. I missed you all! 

Thanks for everyone who sent me Valentine greetings :)) Happy Valentines also to you guise :)
Meanwhile on FB..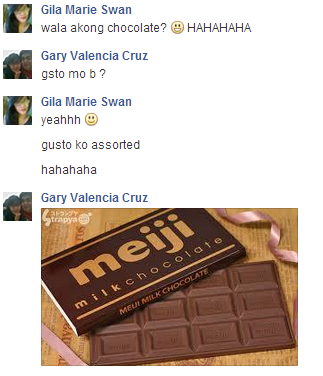 HAHAHAHA .
Friday - February 14, 2014 - 07:33pm ♥ 41 notes •
Permalink
Misunderstanding—-Something new this year…
February 7, 2014//Friday
For the second time, I accompany Gary to open the shop early in the morning. Then after 15 minutes of cleaning up. An old man in his late 50's from ABS-CBN (I guess) came and asked Gary to took video of the place and if they can shoot there a scene for Xian Lim's IDK what show. He even told us that he's going to give us 1,000 pesos if the director has chosen the shop. But unfortunately after 2 hours, that old man didn't come back, I've just seen them setting up to the next shop behind ours. I've heard, that was the shop wanted by the Director. So bye 1K T.T
On the Lighter note, we head to Mang Inasal after his shift to eat something heavy. Heavy as in heavy. Since Mang Inasal offers unli rice.
2 pieces of Pork Barbecue for me.
and this Pecho for him.
After 3x of rice, we already got our tummy full. Then we head back to the shop. He told me that he's gonna use the CR—ONLY. But he ended up seating on PC #16 then he disregarded my presence >.< . I've napped for about 30 minutes. I'd got angry with him. He pissed my ass off that I didn't bother to talk to him while he's on game.
But Gary really have a talent in asking for my forgiveness. Everything had been fixed after a deep deep deep talk then we reconciled. We went and stayed at Park for a couple of hours. Spending the night together. We cuddle and kiss each other. I believe that every misunderstandings should be sealed by a kiss. Haha landeh!

This kind of situation is seldom happening to us. We used to be a perfect couple in the eyes of our friends. So I'm still a novice when it comes to this. So yeah, I'm glad we had passed through this chapter.
Sunday - February 9, 2014 - 08:49pm ♥ 46 notes •
Permalink
Someone is really untidy.
These are Gary's gift to me on my previous birthday. He gave me these two coin purse with the intention that I'll give him the other. Well I did. Then seeing his purse yesterday makes me want to burst into laughter. As you can see (refer to the photos) my purse is in the left side while his purse is in the right side. Mine still looks new isn't it? While on the other side his purse looks like something you could only pick on trash cans. HAHAHA :D Sorry beybi for being mean :D
Saturday - February 8, 2014 - 09:20pm ♥ 39 notes •
Permalink
Anonymous: hi! I know swan is isn't your real surname but I'm deadly curious why you come up with swan? lastly i like your theme. :>
Hello-oh-so-curious-anon! Yes you're right. Well Swan came from Twilight. I'm a twilight fan—Yessssss!. I've been addicted to it's series when I was in college. Resulting for me to replaced Isabelle Marie Swan into Gila Marie Swan. :DDDDD.. Hihihihihi.. And I like my theme too :D Thanksyyy :D
/Lately I've been receiving mountain of compliments about my theme. Hihihi It wouldn't be possible without LA (320pixelsofauradelle). So yeah!
Saturday - February 8, 2014 - 08:41pm ♥ 9 notes •
Permalink
February 3, 2014 ▼Monday Goodness Overload▼
Another day-date with my love. Started the day full of bliss. Holding of hands while riding a jeep makes me feel safe and warm though the weather is already getting warm now a days. Random Fact: Gary && I don't do HHWW in public (Holding Hands While Walking) . But not totally. It depends on the number of people in the surrounding. I prefer holding his shoulder instead while walking. I've just find it annoying. HAHAHA Sorry not sorry..
We opened the Comp Shop together. Had breakfast with him—a take out Big Bite at 7/Eleven, and Mug Root Beer for me — Yes in the morning :D. We didn't took our lunch. We didn't notice time cause both of us are busy. Him — with the DOTA 2 thing-y and Me — with tumblr stuff. So we just decided to bare the starvation since there's only 2 hours more left in his shift.
After his shift, we went to a nearest mall and we bought our favorite delicious-luscious-super yummy Shawarma. Who doesn't love it's savoring taste? I bet NO ONE. Then we passed over to Mcdo to take out a Coke Float and a French Fries and head straight  to River Park to at least have a quiet area to talk to. We've been discussing about Vhong's case and some random matter. You know — just being a normal couple.
On our way home we bought Balut and a take out Siopao for my family. I've been craving for siopao since last week and I'm glad he bought three for me. It is indeed a food overload that it turned out that I no longer capable of eating dinner. Thanksyy beybi for everything. I'm so grateful for that day. See you again on Friday :)
Wednesday - February 5, 2014 - 08:32pm ♥ 47 notes •
Permalink